Go therefore and make disciples of all nations
Gloria Dei began as a mission start congregation, part of an intentional effort to reach into new and growing areas of the city of Sioux Falls with the good news of Jesus. Mission is in our DNA. In Scripture, we read the words of Jesus at the end of the Gospel of Matthew where Jesus says, "Go therefore and make disciples of all nations, baptizing them in the name of the Father and of the Son and of the Holy Spirit, and teaching them to obey everything I have commanded you." Jesus' command begins with that simple little word, "GO." At Gloria Dei, "Freed by Christ we Gather, Grow, Give, and GO all to the glory of God." So, let's GO Gloria Dei!
Occasional Opportunities to GO!
These opportunities are available when a need arises, or are places we serve 1-2 times a year. Check back as opportunities will be added when they become available! All are welcome to GO with Gloria Dei!
The Banquet meal ministry was founded in 1985 starting with just one meal per week. We now serve 13 meals per week at two locations. The Banquet is a volunteer-based ministry, which means our meals are paid for, prepared by, and served by volunteer groups who come from Sioux Falls and the surrounding area.

Gloria Dei has the opportunity to serve at the Banquet (900 East 8th St) twice per year. Help is needed from 5:15-8:00pm to serve the meal and help clean up. It is not only a great way to serve in our community but a wonderful time of fellowship!

Please click the time(s) and complete the form to sign-up. (One form per participant please.)
Gloria Dei is launching a new and exciting adventure, following the call of the Holy Spirit and the passion of a few of your fellow members. We're excited to announce that we're opening up a new hair salon in the city of Sioux Falls! But wait! Let us explain. For some time now, a small group has been praying about and discerning a Mission and Outreach project to offer free haircuts to those in need in the Sioux Falls community. With this prayer and discernment came an amazing $10,000 donation from an anonymous donor. In addition to some extra funding sources, Gloria Dei was able to purchase a brand new, custom 24 foot trailer that will be converted into a mobile hair salon.
This mobile hair salon is about more than free haircuts. This about Dignity. It's about being made in God's Image. And it's about sharing God's Grace. Every one of God's children longs for dignity. Every one of God's children is made in God's image and longs to look and feel their best. Every one of God's children longs to know the grace and good news of Christ. The mobile hair salon will find its place in the Sioux Falls community wherever there is a need to offer dignity, image, and grace through free haircuts.
GO:Bread Break Ministries
Monthly Opportunities to GO!
These opportunities are available on an ongoing basis. Each month we commit to serve again next month. Help us be the hands and feet of Jesus, by signing-up to GO! All Are Welcome!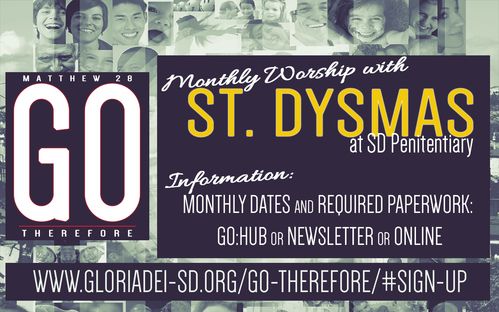 GO: St. Dysmas
Thurs Apr 23, 6:00-8:00pm
Sign-up/Paperwork Deadline: Tues Mar 31
We welcome disciples to worship with the inmates at the South Dakota State Penitentiary each month. You will experience a warm welcome and grace will be given and received.
You will need a current background check (good for a year). See instructions on the
sign up
page. Background check paperwork due to
St. Dysmas
in advance for participation in worship. Watch
sign-up
form for upcoming dates to join the inmates for worship, and make note of sign-up deadlines please.
For more information:
St. Dysmas
GO: St. Francis House
Sun Mar 8, 6:15-7:30pm | 5-6 Disciples
The Holy Spirit calls each of us to make disciples wherever we go. Mission is driven by the Spirit in our families, our neighborhoods, our community, our state, our nation, and our world. We encourage every member of Gloria Dei to get actively involved in the work the Holy Spirit is calling them to, wherever that may be. As a church, we offer ways to live out that call together. Click the links below to learn more about our many mission partners.
Serve the Kingdom on our upcoming mission trips to nicaragua and haiti
HAITI
Gloria Dei will be partnering with Mission Haiti for this Mission Trip. Mission-Haiti is a nonprofit ministry based out of Sioux Falls that glorifies Jesus Christ by reaching out and serving the people of Haiti. Our motto is to Love Jesus, Love Others, Make Disciples. One of Jesus' main instructions to us is to "Love your neighbor as yourself," and that's what we try to do for the people of Haiti.
Travel dates: April 21-28, 2020
If you are interested in learning more about this mission trip and if it might be one you consider participating in, let us know using the button below. Deadline to sign- up for the April trip is Fri Feb 28, 2020.
For more information
Mission-Haiti
NICARAGUA
Gloria Dei has a strong relationship with the Lutheran Church of Faith and Hope in Nicaragua. For over 15 years, Gloria Dei has sent a medical mission delegation to work together with the church to provide acute medical care and health education to the population. Check out our Travel Booklet and check back here for announcements regarding Gloria Dei's hopeful return to Nicaragua in Spring 2020.
Click the link to view the
Travel Booklet
and learn about our mission trip.