Go therefore and make disciples of all nations
Gloria Dei began as a mission start congregation, part of an intentional effort to reach into new and growing areas of the city of Sioux Falls with the good news of Jesus. Mission is in our DNA. In Scripture, we read the words of Jesus at the end of the Gospel of Matthew where Jesus says, "Go therefore and make disciples of all nations, baptizing them in the name of the Father and of the Son and of the Holy Spirit, and teaching them to obey everything I have commanded you." Jesus' command begins with that simple little word, "GO." At Gloria Dei, "Freed by Christ we Gather, Grow, Give, and GO all to the glory of God." So, let's GO Gloria Dei!
Calendar Mission & Outreach
Newsletter Mission & Outreach
Occasional Opportunities to GO!
These opportunities are available when a need arises, or are places we serve 1-2 times a year. Check back as opportunities will be added when they become available! All are welcome to GO with Gloria Dei!
GO:Turkey Baskets
Delivery Date: Mon Nov 23, 4-7pm
(You + Fixings for a Feast) + (Gloria Dei + Turkey) = Turkey Basket We can not solve this problem without you! Please consider signing up to feed a family in need this Thanksgiving.
Gloria Dei will be providing Turkey Baskets for 40 families in need as our National Day of Thanksgiving approaches. You will provide the fixings for a nice dinner, and Turkeys will be provided by the Oak Lane Colony in Alexandria, SD. Then you will deliver the baskets (fixings + turkey) the Monday before Thanksgiving to the family you are assigned. Social distancing will be practiced with the delivery. Sign-up today and enjoy assembling the fixings for a feast to share with a family in need.
Click HERE to see the Suggested Fixings List
GO:Christmas Stockings
Deliver: Stocking by Wednesday Dec 9 to Gathering Space at Gloria Dei
Serve: Sat Dec 12, 11am - 1pm at Bishop Dudley Hospitality House
GO:COTS Christmas Stockings
-
DELIVER
1. Gather necessity items from the list provided below
2. Assemble in a new stocking (necessity items can be wrapped or unwrapped in stocking)
3. Deliver to the Gathering Space at Gloria Dei before
Wednesday Dec 9
Stocking Gift List -- Click Here
SERVE
Church on the Street is a Word and Sacrament Ministry focused on those who are unhoused. Gloria Dei has been given the opportunity to partner with this special organization in worship and providing a meal.
This event will be a Pop Up/To Go event and 7 volunteers will be needed to help the day of the event! Join us for a time of prayer, blessing, holy communion, Christmas stockings, smiles, and love will all be free and given away with reckless generosity that day!
Monthly Opportunities to GO!
These opportunities are available on an ongoing basis. Each month we commit to serve again next month. Help us be the hands and feet of Jesus, by signing-up to GO! All Are Welcome!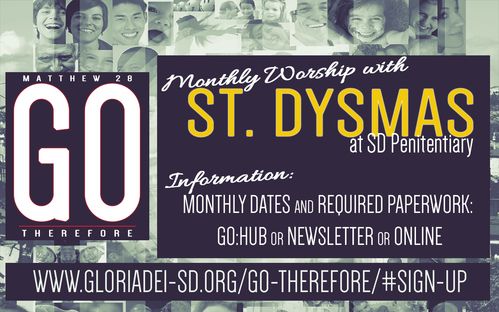 GO: St. Dysmas
Volunteers are suspended until further notice.
We welcome disciples to worship with the inmates at the South Dakota State Penitentiary each month. You will experience a warm welcome and grace will be given and received.
You will need a current background check (good for a year). See instructions on the
sign up
page. Background check paperwork due to
St. Dysmas
in advance for participation in worship. Watch
sign-up
form for upcoming dates to join the inmates for worship, and make note of sign-up deadlines please.
For more information:
St. Dysmas
GO: St. Francis
Volunteers are suspended until further notice.
The Holy Spirit calls each of us to make disciples wherever we go. Mission is driven by the Spirit in our families, our neighborhoods, our community, our state, our nation, and our world. We encourage every member of Gloria Dei to get actively involved in the work the Holy Spirit is calling them to, wherever that may be. As a church, we offer ways to live out that call together. Click the links below to learn more about our many mission partners.
Outreach Ministries of the Month - OMM
FOR 2020
JANUARY --- Nicaragua Hospitality Coordinator / Missionary
FEBRUARY --- St. Dysmas
LENT --- 1/2 to ELCA World Hunger Appeal & 1/2 to Feeding South Dakota
MARCH --- Church on the Street
APRIL --- St. Francis House
MAY --- Neighbors In Solidarity (co-op of the SD Synod Mission Partners)
JUNE --- LSS Mentoring
JULY --- Habitat for Humanity
AUGUST --- Luther Seminary / Ephphatha
SEPTEMBER --- Charis Ministry Partners (Food to You; Necessities for Neighbors; Healthy Rides)
OCTOBER --- The Banquet
NOVEMBER --- Heartland House
DECEMBER ADVENT OFFERINGS --- Cameroon Misionary
DECEMBER --- Bishop Dudley Hospitality House / Soldier Creek
Serve the Kingdom on a mission trip
Gloria Dei has a strong relationship with the Lutheran Church of Faith and Hope in Nicaragua. For over 15 years, Gloria Dei has sent a medical mission delegation to work together with the church to provide acute medical care and health education to the population. Check out our past Travel Booklet and check back here for announcements regarding Gloria Dei's hopeful return to Nicaragua.
Click the link to view the
Travel Booklet
and learn about our mission trip.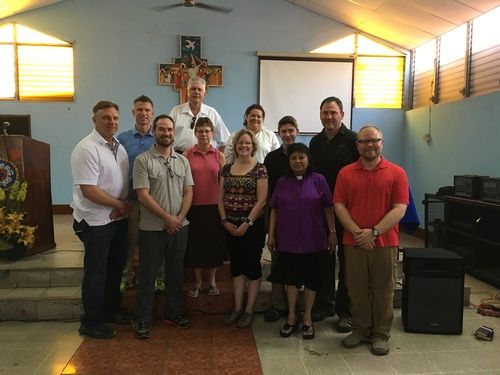 Gloria Dei has a strong relationship with the Du Coin school in Haiti. While our trip there in April 2020 was cancelled due to COVID, watch for information about the next trip when it is safe to travel again.
IN the MEANTIME, If you've been praying about sponsoring a child in Haiti through our partnership, it just got a lot easier! Take a look at the faces of these children that are still looking to be sponsored at our partner school, Du Coin. Click
HERE
, choose your kiddo to sponsor and then receive their photo in the mail. Your $25 a month can change their world. Questions: email
Pastor Chris